What Is A Swamp Cooler And Do You Need One?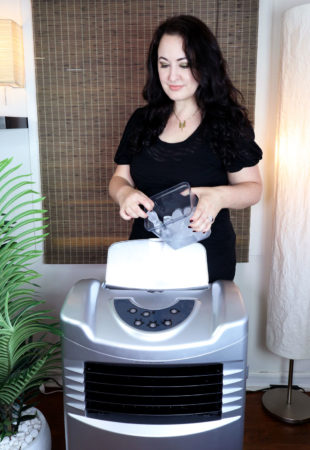 I remember when I first moved from Louisiana to California (about 17 years ago), a coworker mentioned that she used a swamp cooler to beat the aggressive Los Angeles heat. As someone who was born and raised near actual swamp land, I thought it was weird that I had never heard that term before. I have since learned that an evaporative cooler (AKA "swamp cooler") is something that can only be used to beat the heat in DRY climates. It takes hot, dry air, mixes it with water, and produces a cool ocean-like breeze.
I have traditional window unit air conditioners in my LA apartment, but I'm on an upper level floor, and when it gets really hot in the summer, they can be on full blast, and it will still be sweltering. I've tried fans, but they just blow hot air around, and on a really hot day, they can almost make it worse. I wanted to buy another air conditioner for my living room (where I live and work, and spend most of my time), but I have slat windows, so that wasn't an option. A traditional air conditioner has a hose that has to flow out of a window, and my windows don't open wide enough for that to work.
When a distributor for Honeywell reached out to see if I would like to try one of their air conditioners, I realized that although I can't use a traditional freestanding AC, I CAN use an evaporative cooler! It needs to be near an open window, but there's no hose to worry about. They sent me the Honeywell CL201AE Portable Evaporative Cooler (in silver), and it has made a huge difference for me this summer!
Fun fact: while my husband and I were taking these photos, we knocked over the paper lamp in the back, and almost set it on fire. After that we took a trip to Target to buy a new lamp and used LED smartbulbs that change color and don't get HOT!
So easy a caveman could do it…
So first of all, the machine is huge (it covers up to 280 square feet), so you do need to have space for it. You'll need to be in a climate that has less than 60% humidity (SouthWest and MidWest peeps are good candidates). You basically just put it near an open window, plug it in, add water (and ice if you wish), and you're good to go! The effect is literally like they say – like a "cool lakeside breeze." You can also turn the cooling part off and use it as a humidifier during the winter. The downside is that you do have to add at least two large pitchers of water each time you use it (it will last for several hours). But when it's really hot out, trust me – you won't mind the extra effort! If does have wheels, so if you want to, you can wheel it on over to the backdoor, and fill it up with a garden hose.
Take note of the water reservoir indicator. There's a little floating thing that shows you when the water is at the right level. My husband didn't read the directions, and put in something like six pitchers of water the first time he turned it on, and then realized it was WAY too much, so he had to go dump it outside! Once we figured it out, it was actually really simple to use. There's a low water alarm, so you'll know when it's time to add more water. There's even a remote so you can turn it on and off, change the speed, etc.
Overall, I'm really happy with this cooling addition to my apartment. My pets and I are a lot more comfortable, and the added humidity is also good for my skin! This model (CL201AE) runs about $200 and is made for indoor use, but there are larger or smaller, and indoor and outdoor versions available too. If I actually had a yard (a girl can dream), I would definitely get one of these babies to make sitting outside in the summer more bearable!
The post What Is A Swamp Cooler And Do You Need One? appeared first on My Beauty Bunny.

Source by [author_name]